Meet the Veterinary Staff of Park County Animal Hospital
Jeremy Ickes, DVM | Veterinarian/Owner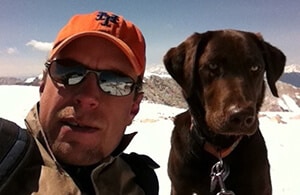 Dr. Ickes graduated from the Virginia - Maryland Regional College of Veterinary Medicine (Virginia Tech) in 2010 and purchased Park County Animal Hospital in 2012. His special interest and training in veterinary surgery, internal medicine, and emergency medicine have provided a high level of quality for the pets of South Park. Having always been fascinated by science and medicine and passionate about dogs, Dr. Ickes entered veterinary medicine so he could combine the two in order to provide the same level of care and attention for area pets that he would want for his own pets.
Dr. Ickes, his wife Kristen, and the rest of their family, 2 golden retrievers, Willin and Jackson; a chocolate Lab, Ellie; and two cats, Cheddar and Joey, all enjoy being part of the Fairplay community. In their spare time they enjoy skiing, hiking, camping, and many other activities that abound in the high country! Most importantly, he welcomes client suggestions and ideas for any new services or improvements on existing services. Please share your ideas!
Jamie Fiege, DVM, Veterinarian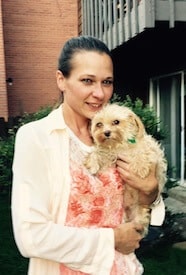 Dr. Jamie grew up in Minneapolis, Minnesota, but always had a love for Colorado. Growing up, she spent her summers in Durango, Colorado, at Echo Basin Dude Ranch. She moved to Colorado for college and graduated from Colorado State University College of Veterinary Medicine and Biomedical Sciences in 2011. She completed an internship at Chino Valley Equine Hospital in Chino Hills, California, following school. She then accepted a position at Strasburg Veterinary Clinic, a mixed animal practice in Strasburg, CO. She joined us here at PCAH in May 2014 as she wanted to move to the mountains to be close to family and friends, and of course to snowboard as much as possible! She chose PCAH as she wanted to practice high quality medicine with great people, and wanted to work in a practice where she could become close with her patients, clients, and the community. Dr. Jamie has a special interest in feline medicine and has one cat of her own named Tuna. In her free time, she enjoys snowboarding, surfing, listening to music, riding horses, shopping, and traveling.
Jen Swisher, CVT | Certified Veterinary Technician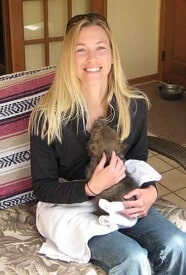 Jen earned her veterinary technician degree through Vermont Technical College in 1999 and has been with Park County Animal Hospital since 2004. Originally from Maine, Jen moved to Colorado in 1999 for the Summit County skiing and relocated to Fairplay in 2004, where she lives with her husband, daughter, cat Dexter, who was rescued locally with the help of the Good Samaritan Fund, and cat Stella, who was rescued from Animal Rescue of the Rockies Cat Casita in Fairplay! She enjoys the variety of opportunities to learn new things while working in veterinary medicine and being able to help patients and their families in this great mountain community. When not working, she enjoys dirt biking, snowmobiling, rafting, camping, and the skiing that originally brought her to Colorado.
Kim Cory | Veterinary Assistant
Kim has been with Park County Veterinary Hospital since 2005 and previously worked for newspapers in the field of graphic design. She enjoys providing comfort to our patients and calming their fears. Her love of animals brought her to working in veterinary medicine and her commitment to making pets and their families feel as comfortable as possible in every situation makes her a highly valued member of our team.
Kate MacLaurin | Veterinary Assistant
Kate moved to Colorado in 2012 following a 6 month backpacking trip in South America and some time spent in Canada. She is a geologist by training and has tried her hand at managing a gas station and banking, but currently is focusing on her love of animals. You may see Kate around town as she also works at High Paw Pet Supplies and the Fairplay Therapy Center.
She has 4 cats and 2 dogs, as well as 5 horses in her pasture. Lizzie and Petey, her dogs, stay busy "herding" the horses around the yard while her cats, Arnie, Honey, NalaLena, and Cinders, spend their days napping and terrorizing the dogs. Monkey, Leo, Baron, Willow and Bindi, the 5 horses, lead a calm life of grazing and napping. Kate has always been drawn to the "underdogs" of the animal world and loves nothing more than to spend every moment of every day caring for them. Most of Kate's pets have had hardships in their life and she has been taking in unwanted horses since she was 16 years old.
When Kate is not busy working or spending time with her animals, she enjoys catching up on sleep and focusing on an Animal Sanctuary she has started called Bandito's Hideout Animal Sanctuary. She is also a board member of The Middle Way, which is a nonprofit organization that focuses on using horses to heal humans through riding and enjoys riding horses herself.
Kate grew up in a small town in Wisconsin which is similar to Fairplay. She loves the feel of a town where everyone supports each other and experienced this first hand in Fairplay when the community united to help her find her dog, Lizzie, when she ran off. Kate joined our staff in December of 2018 and is so excited to have the pleasure of working with all of the town's animals.
Heather Halt, CVT | Veterinary Technician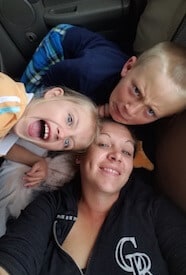 Heather earned her associate's degree from Bel-Rea Institute and has lived in Fairplay since 2004, having moved here from Las Vegas. Her love for animals and especially for dogs drew her into veterinary medicine, and she continues to enjoy the interaction with clients and patients as well as receiving dog kisses! Heather and her two children have a two-year-old beagle/boxer mix, Leah.
Kristen Duke | Receptionist
Kristen moved to Colorado in October of 2017 from Sandy, UT, and joined PCAH in October of 2018. She previously worked as a Veterinary Receptionist at Cottonwood Animal Hospital and has enjoyed being a stay at home Mom for the past several years. Kristen, her husband, Steve, and their 4 children, Nevada, Skylar, Maddox, and Eisley reside in Fairplay where they have come to love their community due to its friendly nature and the willingness of others to lend a helping hand. They have 3 family pets: Freya, a border collie, Ella, a Bichon mix, and Binx, their black rescue cat. Kristen loves working with animals and getting to know the different breeds and their different personalities. She also loves puppy kisses! When Kristen is not at work, she can be found snowboarding or camping with her family.
Megan Watkins | Receptionist
Meg moved from Summit County to Park County in 2000 with her husband, Jim. They share a love of the outdoors, adventure, and travel. Meg initially pursued her love of animals as a volunteer for the Ark-Valley Humane Society. She started by walking dogs, but then became a member of the staff there, working to assist in the daily care of dogs and cats, as an adoption counselor, and as a front office receptionist. To this day, she is still an adoption ambassador and volunteer there.
We were lucky enough to have Meg start working at PCAH in late 2015. 2015 was a big year for Meg as that is also when Shilo, a special needs foster dog, officially became a member of her family!
When not at work, Meg and Jim love to hike, climb, bike, and telemark and cross country ski. And when time allows, they take vacations that allow them to trek, mountaineer, and scuba dive.