Meet the Veterinary Staff of Park County Animal Hospital
Jeremy Ickes, DVM | Veterinarian/Owner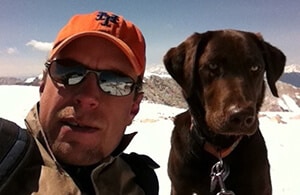 Dr. Ickes graduated from the Virginia - Maryland Regional College of Veterinary Medicine (Virginia Tech) in 2010 and purchased Park County Animal Hospital in 2012. His special interest and training in veterinary surgery, internal medicine, and emergency medicine have provided a high level of quality for the pets of South Park. Having always been fascinated by science and medicine and passionate about dogs, Dr. Ickes entered veterinary medicine so he could combine the two in order to provide the same level of care and attention for area pets that he would want for his own pets.
Dr. Ickes, his wife Kristen, and the rest of their family, 2 golden retrievers, Willin and Jackson; a chocolate Lab, Ellie; and one cat, Cheddar, all enjoy being part of the Fairplay community. In their spare time they enjoy skiing, hiking, camping, and many other activities that abound in the high country! Most importantly, he welcomes client suggestions and ideas for any new services or improvements on existing services. Please share your ideas!
Heather Halt, CVT | Certified Veterinary Technician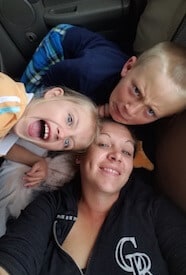 Heather earned her associate's degree from Bel-Rea Institute and has lived in Fairplay since 2004, having moved here from Las Vegas. Her love for animals and especially for dogs drew her into veterinary medicine, and she continues to enjoy the interaction with clients and patients as well as receiving dog kisses!
Heather and her two children have a two-year-old beagle/boxer mix, Leah.
Natalie Anderson, CVT | Certified Veterinary Technician
Natalie joined our PCAH team in May 2020 but has lived in Park County since 2000. She loves the Colorado scenery and wildlife. She graduated from Colorado Mountain College in 2012 with an AAS in Veterinary Technology and is a Board Certified Veterinary Technician. She has worked as a Veterinary Technician for 6 years and loves every aspect of the job as her true passion is helping animals. However, the most rewarding part of the job for her is performing dental cleanings as it benefits the patients so greatly.
Natalie lives with her boyfriend, Billie in Hartsel, CO. They have 4 dogs, Remington (Remi), Sonni, Marley, and Audrey, 1 cat, Spirit, 1 rabbit, Kozi, 1 horse, Lotus, 1 goat, Billy, and 5 chickens! When Natalie is not working, she enjoys hiking, backpacking, camping, fishing, riding horses, and attending live music. Natalie is pictured here with Remi on Boreas Pass.
Amber Lawrence | Veterinary Technician
Amber grew up in Evergreen, Colorado, but has been coming to Park County since 1992 to visit family. She moved to Park County in 2021 and joined the staff at PCAH in the Spring of 2022. Amber's favorite things about working in Veterinary Medicine are assisting in surgeries and getting puppy kisses. Amber has two orange tabby cats, Bob Dah Cat and Mr. Cooper. She also has two canine family members, Busta, a Black Lab, and Rifle, a Blue Heeler. She loves living in the High Country of Colorado for everything it has to offer, but especially snowboarding. You may also see Amber volunteering at the Far View Horse Rescue or as a volunteer SCUBA diver at the Denver aquarium. When not working or volunteering, Amber enjoys rafting and dancing to live music.
Kim Cory | Veterinary Assistant
Kim has been with Park County Veterinary Hospital since 2005 and previously worked for newspapers in the field of graphic design. She enjoys providing comfort to our patients and calming their fears.
Her love of animals brought her to working in veterinary medicine and her commitment to making pets and their families feel as comfortable as possible in every situation makes her a highly valued member of our team.
Lisa Sanchez | Veterinary Receptionist
Lisa has loved animals since she was a child- so much that she wanted to talk to them! As a kid, growing up in Omaha, Nebraska, her mom was involved in educational programs at the Henry Doorly Zoo. At one time, she even cared for a baby gorilla and a baby jaguar in the zoo's nursery. This experience taught her from an early age that it is amazing and special to share our lives with these other creatures.
Growing up, Lisa always had pets. Nowadays, she keeps it simple and shares her home with Buddha, a Landseer Newfoundland, and Walter, her rescue cat.
Lisa has lived in Breckenridge and Boulder but has called Park County home for the last 8 years with her husband, Shad. She loves the mountains, the wilderness, and the wide open spaces Park County offers. She and her husband enjoy hiking, camping, and travelling. Coming from a previous career in health and wellness, she also loves yoga and meditation.
For Lisa, the most exciting thing about working in veterinary medicine is that it combines her deep love for animals with her interest in health and the joy she feels when helping people.