Healthy Mouth, Healthy Pet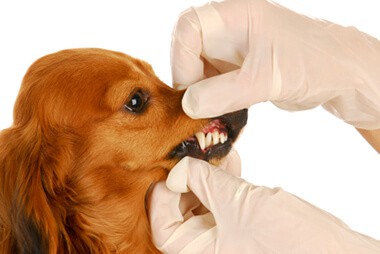 Most people understand the importance of regular oral health care and would not miss a day of brushing and flossing their own teeth. At Park County Animal Hospital, we encourage pet owners to diligently maintain a practice of excellent oral health for their pets, too.
Just like in humans, in the mouths of our pets, bacteria can cause deterioration of the teeth and disease in the gum line. When left untreated, the decay can cause toothaches, root damage, and even infections that spread to the kidney, liver, and other internal organs. This is very painful for a pet and can affect his or her overall health for long periods of time.
The American Animal Hospital Association recommends both at-home care and regular professional cleaning to promote pet health.
In-Hospital Pet Dental Cleaning
When your pet comes in for his or her annual physical examination, our veterinarian will complete an oral exam and will advise you on the health of your pet's mouth. While pets need regular professional cleaning, the frequency of need varies from one pet to the next, with some being able to go a couple years between cleanings and some needing cleanings twice per year.
When a pet's teeth have accumulated plaque, no amount of at-home care will restore the pet's oral health and it is time for an in-hospital cleaning. In order to clean a pet's teeth, the pet must be under anesthesia. As with all procedures done under anesthesia, your pet will be fully monitored throughout the cleaning and recovery.
Our technician will use our ultrasonic scaler to remove plaque both above and below the gum line. A full-mouth exam will be completed to check for tooth and gum diseases and digital X-rays will be taken to examine the health of the roots of the pet's teeth. Our veterinarian will complete any necessary extractions and the pet will be put on a pain management protocol so that he or she will be comfortable following the procedure.
Once your pet's teeth are clean, it is time to start an at-home preventive maintenance plan to keep the mouth healthy.
At-Home Pet Dental Care
There are many different ways that pet owners can encourage good dental health in their pets:
Brushing pet teeth—Our staff can help you get your pet used to regular brushing as part of his or her daily routine.
Pet nutrition and treats—When plaque builds up quickly on a pet's teeth, we can recommend special diets and treats that can be used to slow the rate of buildup.
Pet dental toys—Some chew toys have also been designed for removing plaque and encouraging excellent gum health.
You may also wish to visit our veterinary pharmacy for dental care products made specifically for pets.
If you have any questions or concerns about your pet's oral health, please contact the helpful staff of Park County Animal Hospital.