Promoting Health and Comfort
for Pets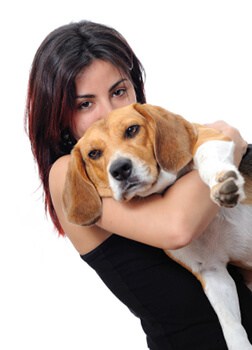 Park County Animal Hospital is committed to the comfort and wellbeing of pets recovering from illness, injury, or surgical procedures. We have found that when we manage a pet's pain, in addition to knowing that we have kept the pet comfortable, he or she also returns to normal activities much faster.
Multimodal Approach to Pet Pain Management
Rather than just treating pain with medications, Park County Animal Hospital has found greater success approaching the pet's unique situation and addressing multiple factors that are exacerbating the pet's pain or disrupting the comfort level.
An example of our multimodal approach would be in situations of degenerative joint disorders. Oftentimes, when a pet has arthritis or other joint conditions, we will use anti-inflammatory medications and analgesics to increase the pet's mobility and relieve the pain. However, if the pet is also overweight, one of our modes of treatment may involve using a prescription diet to help with weight loss. If the pet has been in pain for long or has reduced mobility, we may recommend physical therapy to strengthen specific muscles and relieve others.
Benefits of Pet Pain Management
In addition to making your pet more comfortable, studies have shown that managing a pet's pain speeds recovery and healing time. Pets that are comfortable are under less stress, eat and drink better, get more complete rest, and are more willing to return to a normal activity level than pets that feel pain.
Identifying Signs of Pet Pain
Pets hide pain in order to avoid the attention of predators. While this can be an effective defense mechanism, it makes it hard for pet owners to recognize when their pets are hurting. Our veterinarian will evaluate your pet and help you determine his or her level of comfort. Some of the signs that a pet is in pain include:
Hiding or being unusually quiet
Vocalizing
Biting or threatening to bite when touched
Chewing at a part of the body
Increased aggression or submission
Difficulty eating or sleeping
Attention seeking
No matter the source of your pet's pain, Park County Animal Hospital will work with you to evaluate your pet's comfort and to plan for ongoing relief and the restoration of health.